For we are his workmanship, created in Christ Jesus for good works, which God prepared ahead of time for us to do.
At Bel Aire our women's ministry is focused on putting feet to our faith - living out the example of servanthood as exemplified by our Savior, Jesus Christ. We want to grow in faith, love our neighbors, and help those in need.

We strive to be doers of the Word, not just hearers. We offer Bible studies at various times of the day and week and will have scheduled fellowship and ministry events scheduled throughout the year.
We want every woman to feel connected and to utilize her gifts for the glory of the Lord.

All are welcome,! Please, come join us as we draw closer to our Lord, serve our neighbors, and encourage one another in our daily walks.
The Women's Ministry will be extending a "Warm Welcome" to our new members on Sunday, May 2. We would love to include letters of welcome from men, women, and young people that are existing members. Any donations for the baskets or letters of welcome need to be turned into the church office on or before April 25. If you have any questions or need more information, please contact Sandy Floyd, Kerri Helsel, or Mindy Alexander.
Women's Ministry Lunchoen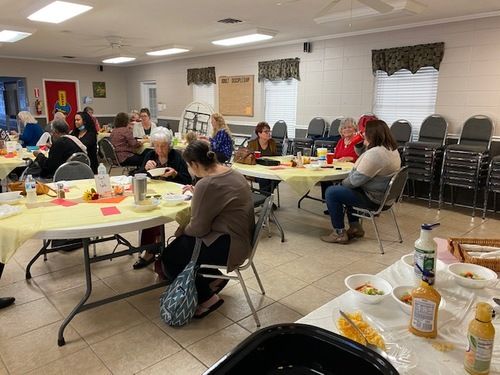 Opportunities of Ministry for Women
There are several
Mid-Week options for Bible Study. If you are looking, we have the place for you. If you are interested in attending, contact the office.
Thursday Morning Bible Study
On Thursday morning, our ladies meet for Bible study at 9am in our Education Building. If you are interested in attending, contact the office.
Get Connected and thrive.
OUR THRIVE DISCIPLESHIP GROUPS MEET ON WEDNESDAY AT
5:45PM. WE OFFER 13 DIFFERENT CLASSES OVER A 3 SEMESTER YEAR. CLICK BELOW TO SEE A LIST OF CURRENT CLASSES AND TO REGISTER FOR A CLASS.